Dr. Joel Ying, Storyteller
I'm a Physician-Educator-Storyteller.

How does a physician become a storyteller?

Finding passion, one story at a time.
My Story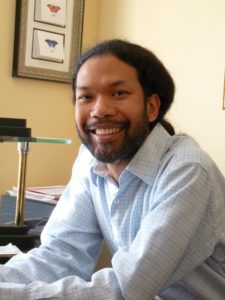 When I started my office practice bridging alternative and holistic medicine, I decided to give talks to get myself known in the community. There was just one problem: I was a horrible speaker — soft spoken and nervous. With the suggestion of a friend, I joined Toastmasters in 2005 to improve my public speaking. This organization helped me to grow as a confident speaker, but I was still working on becoming an engaging speaker. Yes, my talks were often boring!
I still remember the Toastmasters meeting where instead of a speech, someone told a story. I was captivated and entranced by the magic of storytelling. I knew right away … "I want to do that!" I still remember telling my first folk tale. Voices and characters came out of me. I felt as if the story had come through me. I felt alive! I had uncovered a hidden talent and a new passion.
In 2015, I began the journey as a storytelling performer. I discovered a new way to connect and touch an audience. In this age of information, it is not the facts and figures that inspire, but rather it is the power of story to create emotion and move us into action. I began to work on the craft of storytelling: workshops, writing stories, and watching other tellers. Promoting storytelling has also become one of my passions. With Storytellers of the Round Table, I have produced showcase events, sponsored National Tellers to perform locally, started a local guild, and of course perform!
I now perform an eclectic collection of world folk tales, touching personal stories, enlightening historical and literary tales. My style has been described as unique, unexpected, and powerful. I perform monthly during the tourist season in Naples, Florida. I have also performed at the Florida Storytelling Festival, Stone Soup Festival New Voice in South Carolina, Timpanogos Swap in Utah, and just about anyone that will listen.
Thus, is born the Physician-Educator-Storyteller.
Other Websites
Physician – Medical Office: joyhealthwellness.com
Educator – Blog, Newsletter, Courses: LivingthePresentMoment.com
Storyteller: You Are Here

Memberships
Attendance at Festivals & Workshops
National Storytelling Festival, Jonesborough, TN 10/2015, 10/2016, 10/2017
Florida Storytelling Festival. Mt Dora, FL 4/2016, 4/2017 (Florida Stage Storyteller)
Donald Davis (Mt Dora, FL 4/2016)
Bill Lepp (Naples, FL 2016, 2/2017)
Kim Weitkamp (2014, 2015, 2016)
Carmen Agra Deedy (Naples, FL 2016; Lehi, UT 9/2017)
Kaye Byrnes (Naples, FL 2016)
Ann Randolf (Jonesborough, TN 10/2016)
Geraldine Buckley (Naples, FL 1/2017)
Tim Lowry (Mt Dora, FL 4/2017)
Stone Soup Storytelling Festival. Woodruff, SC. 4/2017 (New Voice Teller)
Elizabeth Ellis (Naples, FL 6/2017)
Timpanogos Storytelling Festival, Lehi, UT 9/2017
Storytelling Repertoire (and the list continues to grow!)
Billy the Best Friend, a tall tale that might be true
The Box, personal story
The Teacher, personal story
Love or Money, personal story
Skeleton Woman, Inuit folk tale, adapted from Clarissa Pinkola Estes
The Weeping Willow by Sheila Arnold Jones, modern folk tale
Joe and the Guru, fractured tale of the search for a guru
The Marriage Boulder, modern folk tale adaptation
The Man With No Luck, Irish folk tale
The Search for Truth, fractured folk tale
The Gift of the Magi by O'Henry (1905), literary story adapted for telling
The Monkey's Paw by W. W. Jacobs (1902), literary story adapted for telling
The Stonecutter, Asian folk tale
The Spring of Youth, Asian folk tale
The Emperor's New Clothes: A Story of Fashion, fractured folk tale
Louise Bennett: A National Treasure of Jamaica, historical narrative
Anansi and the Snake, folk tale from Jamaica
The Rich Man and the Lazy Son, folk tale (4 min)
There's Nobody Here, ghost story (3 min)
The Story of Kumbaya (historical story)
Legacy of Love (personal story)
Pandora's Box (Greek mythology)
The Midas Touch (Greek mythology)
Deadalus and Icarus (Greek mythology)
The Graveyard (Spooky story)
The Story of Santa Claus, 'Twas the Night Before Christmas
The Three Sacks of Truth (folk tale)
…. and more … he's always working on new stories!
Upcoming and Past Events
Click here to see the extensive list of upcoming events and past accomplishments!